Kem McNair: Artist. Surfer. Musician.

Over 40 years of viewing, photographing and surfing waves in exotic locations all over the world enables Kem McNair to capture the majestic beauty of oceanside environments. From his paintbrush flows an endless stream of ethereal waves, foaming surf, whispering palms and serene beaches that captivate viewers with nature's magical meeting of land and sea.

Kem began painting surfboards in the mid 60s. Since then, he has airbrushed and hand painted over 10,000 surfboards and created thousands of T-Shirt designs and illustrations. An impressive list of clients includes Daytona International Speedway, Ron Jon's Surf Shop, 20th Century Fox, Marvel Comics, Budweiser, Corona, and many other well known surf shops, restaurants and events. In addition, his art is also popular with private collectors.

Kem McNair is represented by Bruce McGaw Graphics in New York. He is also a former East Coast Surfing Champion, Professional Photographer and Professional Musician.


Kem On Surfing...

"I started surfing in New Smyrna Beach, Florida in April 1964...the same month that I got my first 9'1" Daytona Beach Surf Shop/Miller. After winning my first surf contest in 1966, I was asked to join the East Coast Hobie Team by Gary Propper, and subsequently won the Florida State Championships in 1968. I went on to become the Atlantic States Champ and the East Coast Champ in 1969, and was a member of the East Coast Team for the 1970, '71 and '72 United States Championships in Huntington Beach, California, as well as the 1972 World Championship. You'll find me out there in the lineup every day that the waves are good...there are still a lot more to ride!"

~KM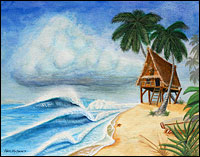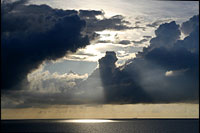 You'll find beautiful beaches, dramatic sunsets, and gravity defying surfers over in the
Photo Gallery